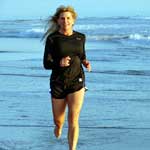 Welcome to the website for CLUB WEST, INC. We are a Santa Barbara-based track and field/running group, supporting competitors ranging from masters athletes to elementary school students. In operation since 1972, the club is composed of track and field officials, coaches, competitive athletes, community runners and track supporters. It actively promotes track and field and running programs on a number of levels:
---
McConnell's Endurance Events – Sunday, August 20, 2017
Goleta Beach County Park
Sponsored by Club West
Thank you to all of the participants of the 37th McConnell's Endurance Events,
and a Special Thank You to our Sponsors McConnell's Fine Ice Cream and The Berry Man.
See you in August 2018.
---
Junior High School After-School Cross Country Program
FREE
La Colina Junior High
Tuesdays and Thursdays from 2:30 to 3:30
Santa Barbara Jr. High
Tuesdays and Thursdays from 3:15 to 4:30
Goleta Valley Junior High.
Mondays and Thursdays from 2:45 to 4:00
Includes a total of 4 Cross Country Track Meets at the Junior Highs with a Final Championship Meet at Elings Park on December 14.
Cross Country Meets
November 2 at La Colina 1.5 miles (4:00 pm start) Results
November 9 at SBJHS 1.75 miles (4:00 pm) Results
November 30 at GVJHS 2.0 miles (4:00 pm) Results
December 14 at Elings Park – Championship Meet – Cancelled due to Poor Air Quality
The Championship Meet will not be rescheduled
Thank you to all of the participants for an exciting season!
Contact Kevin Young at kyoung42@hotmail.com or (805) 637-2048 for registration.
THANK YOU to the Santa Barbara Athletic Association for their generous assistance with the Junior High Cross Country Program.
For more information on the SBAA go to sbrunning.org
---
Club West 41st Masters's and Open Track and Field Meet
Sunday, October 22, 2017- Westmont College, Santa Barbara, CA
Club West, Inc. was chosen in May, 2007 as the winner of the "Intergenerational Effort of the Year" by the Central Coast Commission for Senior Citizens Area Agency with certificates of congratulations and commendation from the U.S. Congress, the California Legislature and the Santa Barbara County Board of Supervisors. Earlier in the year, it was awarded a certificate from the City of Santa Barbara Parks & Recreation Department for "Recognition for Outstanding Service and Dedication to after-school track and field programs."
---
Current office holders:
President: Bill Rupp – email: ruppww@aol.com
Treasurer: Bill Veazey
Secretary: Frank Stevens
Club West, Inc. is a member club of USA Track & Field.