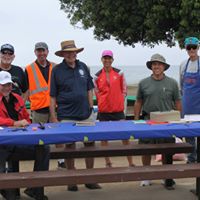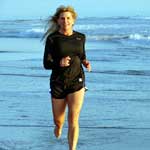 Welcome to the website for CLUB WEST, INC. We are a Santa Barbara-based track and field/running group, supporting competitors ranging from masters athletes to elementary school students. In operation since 1972, the club is composed of track and field officials, coaches, competitive athletes, community runners and track supporters. It actively promotes track and field and running programs on a number of levels:
---
The 805 Youth Track and Field Championships
May 6, 2018  –  Santa Barbara City College

Thank you to the athletes, volunteers, coaches and parents for a wonderful meet.
And Thank You to the City of Santa Barbara Parks and Recreation Department for co-sponsoring the meet.
Here are the results for the meet.
Any questions contact Bill Rupp at ruppww@aol.com.
---
McConnell's Endurance Events – Sunday, August 19, 2018
Goleta Beach County Park
Thank you to the runners, walkers, swimmers, volunteers and parents.  It was a wonderful day!
Here is a link to the 10K/5K results
And please check out the Facebook page for the McConnell's Endurance Events for many pictures of the day:
https://www.facebook.com/McConnellsEnduranceRace/
And THANK YOU to our sponsors:  McConnell's Ice Cream and The Berry Man.
---
Junior High School After-School Cross Country Program
FREE
Practices at La Colina, La Cumbre, Santa Barbara Junior High and Goleta Valley Junior High.
Practice begins on September 24.  This year there will be dual meets (two schools competing at one meet, rather than four schools) with a Championship meet for all four schools at Elings Park on November 7.
October 10, 2018 Results:
La Cumbre at Santa Barbara JHS.    Goleta Valley at La Colina JHS
October 17, 2018 Results:
La Colina at La Cumbre            Santa Barbara at Goleta Valley
October 24, 2018 Results:
Santa Barbara at La Colina        Goleta Valley at La Cumbre
Contact Kevin Young at kyoung42@hotmail.com or (805) 637-2048 for registration.
THANK YOU to the Santa Barbara Athletic Association for their generous assistance with the Junior High Cross Country Program.
For more information on the SBAA go to sbrunning.org
---
Club West 42nd Masters's and Open Track and Field Meet
Sunday, September 30, 2018 – University of California, Santa Barbara, Santa Barbara, CA.
The return of the meet to UCSB went very well.  Thank you to the athletes, fans, officials and volunteers.  A special thank you to  UCSB coach Gray Horn and the UCSB volunteers for helping out.  And a BIG Congratulations to Marie-Louise Michelsohn for her World Record performance in the 2000 meter Steeplechase in the Women 75-79 Age Group.
Here is a link to the results.
If any questions please e-mail Bill Rupp at ruppww@aol.com.
---
Current office holders:
President: Bill Rupp – email: ruppww@aol.com
Vice President: Robin Paulsen
Treasurer: Bill Veazey
Secretary: Frank Stevens
Club West, Inc. is a member club of USA Track & Field.