Club West Announces Kenyon as Official Track and Field Coach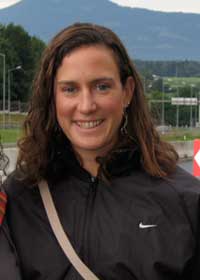 Private Coaching Available
Jenny Kenyon, a Pac-10 standout in heptathlon and hurdles at University of Oregon and most recently assistant sprints and hurdles coach at UCSB, has been named official Track and Field coach for Club West. She is available for individual and group training for recreational and competitive athletes in all aspects of track and field athletics.
Kenyon is a graduate of the University of Oregon, and holds graduate degrees in Educational Leadership for Higher Education. She has over seven years of experience coaching all types and levels of athletes from youth state champions to Master's American record holders. Most recently, Kenyon has coached for 5 years at the NCAA Division I level and developed sprint training programs for minor and major league baseball players. As a competitive athlete, she was a perennial high performer for the Pac-10 in the eptathlon, 100m hurdles, and long jump. In addition, Kenyon is a five time Pac-10 scorer and is ranked # 8 on Oregon 's all-time heptathlon list.
Kenyon is a USATF Level II certified coach with training in combined events and jumps.
Kenyon's custom coaching includes:
Speed and power development: teach fundamental sprint mechanics to sprinters and 'skill position' athletes to enhance dynamic power, speed, and decrease injuries due to improper sprint form. This training is intended to develop efficiency, power, and speed for sprinters, hurdlers, jumpers, football players, and any athlete that needs to build speed for a competitive edge.
Long and short hurdles: training and specialized hurdle technique for beginning and advanced hurdlers. Training includes drills to increase flexibility necessary for proper hurdle form and general strength training to build explosive starts and  successful racing.
Vertical and horizontal jumps: jump training for long jumpers, triple jumpers, and high jumpers. Athletes learn proper jump technique, sprint technique for powerful
approaches, and build strength through the use of core training and plyometrics.
Strength and Conditioning: personalized strength programs for peak performers as well as non-competitive, recreational athletes. Customized programs are designed to help each individual reach their goals through the development of general strength and explosive power.
Coaching fees:
Private sessions:
Club West members $50/session
Non-members $65/session
Group sessions (Club West Member discount -$5.00):
2-3 athletes $45/session/athlete
4-5 athletes $40/session/athlete
6-7 athletes $35/session/athlete
8 or more call for quote
For more information contact:
Jenny Kenyon, Coach
Club West
t: 805-708-7171
e: jennykenyon1@gmail.com
Santa Barbara Pole Vault Coaches
STEVE MORRIS
CIF Pole Vault Champion,
Cal-State Los Angeles Pole Vaulter
Dos Pueblos HS, San Marcos HS, Westmont College Pole Vault Coach
2011 World Masters Pole Vault Champion
DR. THOMAS WOODRING
Santa Barbara HS Pole Vaulter
Former Santa Barbara Comm. College Pole Vault Coach
Current San Marcos HS Pole Vault Coach
USA Masters Pole Vault Champion
RYAN RUPCICH
US MARINE Corp. Veteran
Fresno State Pole Vaulter
Former Assistant UC Santa Barbara Track & Field Coach
Current Assistant Santa Barbara Comm. College Track & Field Coach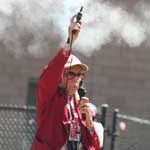 The above experience of these three outstanding pole vaulters represents over 100 years of Pole Vault participation.
For further information, please contact Beverley Lewis at (805) 969-5852 or b.eanne@cox.net